Station Rose: Webcasting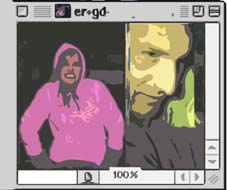 Station Rose: Recording of Live Webcast (19 March 2003)
Background:
Webcasting is one of the most important techniques for Station Rose (STR) at the moment, to create media art, in particular "web art". Webcasting means that images and sound are broadcasted in real time from our studio to the Internet.
Station Rose started their webcasting with a contribution to an exhibition in Berlin in January 1999. In the meantime 159 programs have been broadcasted in real time at www.stationrose.com. In 2000 we issued a book on the theme Webcasting titled "private://public".
Description:
We will concentrate our "Playing Field" project on audiovisual sessions, actually entailing music by Gary Danner & visuals by Elisa Rose, creating and editing, cutting and pasting, using MIDI and sequencer live. These audio-visual compositions first come into realtime existence only when STReamed to the internet, during the Webcasting, as a performance.
Parts of the broadcasted production can be reused by Station Rose later during performances, in form of re-edits for TV productions, art objects, books, DVDs or audio CDs and vinyls.
Right now we're extending the STReaming- techniques with videoconferencing, and with live connections to other streamers. Which means that STReams go out into the net and others come back and are integrated in realtime. The first step into this direction was made at the media conference "9.11. Netzwerke" in Frankfurt.
STATION ROSE Bio:

Station Rose/STR has been founded in 1988 by Elisa Rose (Visuals) and Gary Danner (Sound) in Wien/A as a public multimedia lab, after they left the University of Applied Arts in Vienna with a diploma. From the beginning the spectrum of STR-activities reached from CD-, Vinyl- und CD ROM productions, art production, research on virtual realities and the organisation of symposia, to public readings and performances in galeries, museums and in the underground scene. In 1988/89 STR did multimedia field research for 8 months in Cairo/Egypt, as a post graduate project. The first STR Technoevent happened in
Vienna in 1989 ("Gunafa Clubbing"). In 1991 Station Rose moved to Frankfurt am Main, and went on-line at the same time. Gunafa Clubbing was the first audiovisual Technoevent which connected the clubscene with the Internet in 1992.
Nowadays Station Rose STReams on a regular base at www.stationrose.com.
STR has performed as a multimedia band at
Ars Electronica,
Transmediale/Berlin,
Viper/Basel,
at Steirischen Herbst,
in Museum Ludwig/Köln,
Cyberthon/San Francisco,
XS/Frankfurt,
Turbine/Berlin,
Ultraschall/München,
Rhiz/Wien,
Nature One,
le Batofar/Paris,
Museumsquartier/Wien,
MAK Wien,
Kunsthalle Schirn/Frankfurt,
WMF/Berlin,
KUB, ICA London etc.
Most important productions:
"Virtuelle Realität als neuer Grenzbereich - Research for the Austrian Ministerium für Wissenschaft und Forschung" CD ROM 1992;
"15 Years of Ars Electronica" CD ROM 1994;
"1st Decade - Das Buch" edition selene 1998;
"Playing Now" Audio CD 1999;
"AU CIEL" Audio CD 2000;
"Live @home 1- 4" Maxisingles 1999/2002;
"private://public" edition selene 2000.
STR has released audiovisual products on Mille Plateaux, Gigolo, Play it again Sam, Sony Music, Crippled Dick, Hot Wax, Gunafa and other labels.
Station Rose lives & works in Cyberspace & Frankfurt am Main.
In 2002 STR curated the media symposium "9.11. Netzwerke" at Mousonturm, Frankfurt.